Supercharging 40Seven Asset Surveys: Streamlining Operations and Unleashing Potential.
Implementing a credible software project roadmap to help facilitate business process changes

The Problem
40Seven, a prominent land and utility surveying services provider, faced a critical challenge. 
40Seven collect survey data about gas pipes on behalf of their clients, using a complex business process comprising iOS apps, a custom PHP API, and multiple access databases. However, their existing system architecture proved incapable of accommodating new asset types, hindering their ability to win new clients that require different types of assets to be surveyed. Additionally, the current business process involved data spread across multiple locations, resulting in inefficiencies and manual processing that consumed valuable time and created inconsistencies.
Summary
Stakeholder interviews
User Story workshops
Journey mapping
Clickable prototype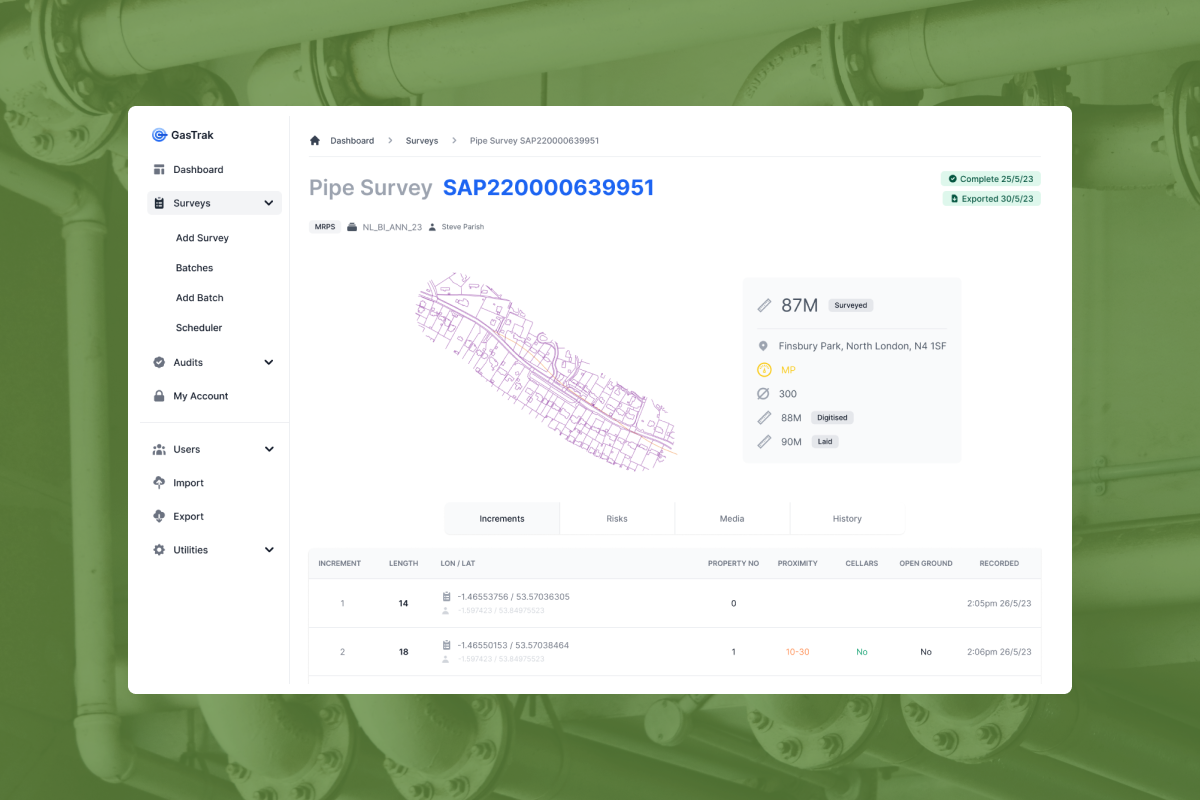 The Process
We recognised the need to optimise 40Seven's operations and unlock their potential for growth. 
To address their challenges, we comprehensively documented the existing process collaborating closely with all stakeholders. 
We began by conducted the following activities: 
Preliminary interviews to identify the key individuals who needed to be involved in the project.
User story workshops, gathering insights from all relevant stakeholders to gain a thorough understanding of the current business process.
Documentation of the current API and existing software solution to help create an implementation plan which took into consideration how the existing apps connect to the software.
On site analysis with a surveyor to help identify any points where efficiency could be improved within the exiting mobile application
A clear path for improvement
Visually engaging prototype
Buy in from the whole team
The Solution
Through our collaboration with 40Seven, we designed a solution that helps them understand how they can improve their existing process as well as implement a new process and software system in an incremental way.
We used Figma to create a complete clickable prototype , showcasing how new asset types could seamlessly integrate into a new and flexible backend system. This approach provided a visual representation of the future state, inspiring confidence in the possibilities that lie ahead.
To streamline operations and enhance efficiency, we proposed an improved business process. This process was designed to eliminate inefficiencies, reduce manual processing, and consolidate data into a centralised location, ensuring smooth workflow and faster outcomes.
To provide clarity and alignment, we documented a comprehensive set of features based on user stories, complete with acceptance criteria. This documentation served as a blueprint for the new system, capturing the requirements necessary for a seamless transition. Additionally, we presented a high-level cost estimate, enabling 40Seven to make informed decisions about the development of the new system.
Our deliverables also included documentation of the current system API and proposed system architecture. These vital resources ensured seamless integration, scalability, and future adaptability as 40Seven pursued their ambitious growth plans.

Jon Steers
Operations manager 40Seven ltd
The Team at HRPR applied a clinical, collaborative and structured approach to understanding our current processes. Results have been nothing short of outstanding and have given great confidence to our business in terms of our working relationship with HRPR and future developments.